It's another day to save some money and Black Friday is one such event that is up right now.
There are some really good deals for designers and developers out there, however, if you know where to look! I've scoured the web to find the best deals for us, and found some great websites with some great designer and developer deals.
Check out my selected list to make sure you don't miss out on the best deals for this year's Black Friday!
Black Friday - Lifetime Deals
When you come across a lifetime deal, you know you need to take advantage of it!
In a lot of cases, you're bound to have a better experience when you're getting a longer service for a cheaper price.
Of course, there are going to be a lot of other benefits to a lifetime deal that can help you save a lot of money down the line. It's a great option that a lot of smart designers and developers take advantage of.
Check this Appsumo Black Friday deals and get 10% off when you spend $150+. This will end on November 30th at noon CST!
| | | | | |
| --- | --- | --- | --- | --- |
| Apps | Type | Price | Link | Alternative to |
| | Exclusive Adons: Complete Elementor Addons | $49 - $147 | link | Ultimate Addons |
| | Iubenda: all legal requirements and privacy laws | $59 - $177 | link | Onetrust |
| | Microthemer: Customize almost anything for your wordpress | $59 - $169 | link | CSS Hero |
| | Better Uptime: Monitoring and notifying for your websites | $69 - $207 | link | Pingdom, PagerDuty, and Status Page |
| | Spreadsimple: create and manage websites using Google Sheets | $59 - $177 | link | Sheet2Site, AppSheet, and Glide |
| | Zionbuilder: interactive, high-ranking wordpress with a hyper-fast website builder | $99 | link | Oxygen Builder and Beaver Builder |
| | Swell: Headless eCommerce stores for both physical and digital products | $79 - $499 | link | BigCommerce and Magento |
Builders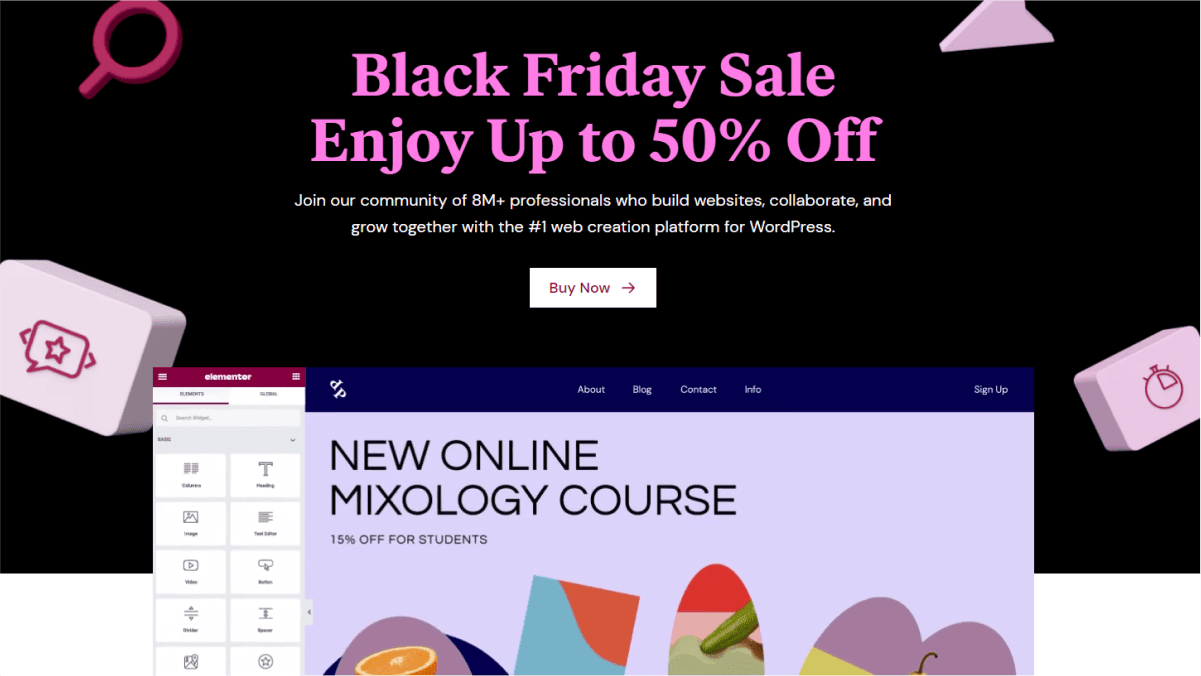 Elementor is an award-winning, revolutionary page builder for WordPress. No more shortcodes(although you still can use shortcode), no more coding, no more headaches. Build any page layout in an intuitive visual interface.
With Elementor, you can build almosth any marketing website. From beautiful blog posts or complex multipage marketing pages with ease.
Elementor is the only tool you need to build stunning WordPress pages. Elementor is the page building tool of the future.
Black Friday Deals: Up to 50% off.
Udesly is an ultimate Webflow converter, which means it transforms Webflow templates into working sites. It will automatically convert your Webflow templates into Wordpress templates then that can be directly uploaded into your Wordpress site.
Or, if you are building a site on a platform like Shopify, Ghost, even Jamstack. For Jamstack conversion, it will generate for 11ty theme, Snipcart for eCommerce functionalities and Netlify CMS for the CMS. And of course, no code is required!
Black Friday Deals: Up to 60% off for ALL ACCESS plan.
Pinegrow is website editor, a software that can be installed on your computer to help you build a beautiful website from scratch.
It is also possible for you to convert the website to Wordpress theme. This converter is available as a separate add-on. It is also possible to use a styling framework such as bootstrap, Tailwind CSS, or style it yourself.
Black Friday Deals: Up to 35%.